Murder in Notting Hill
Kelso Cochrane, c. 1959 (Courtesy of Keystone/Hulton Archive/Getty Images)
Kelso Cochrane, a young carpenter from Antigua, pictured circa 1959. On 17 May 1959, he was stabbed to death in London's Notting Hill area during a racially motivated attack.
Kelso Cochrane
Notting Hill, London, May 17, 1959, just after midnight. Having had his finger, which he had broken at work, re-plastered at the local hospital, Kelso Cochrane was walking home. He was quite near the house in which he shared a room with his partner Olivia, when a gang of white youths surrounded him. They called him many insulting names, punched, pushed, thumped and then stabbed him. When he collapsed they ran away.
Two black men walking nearby rushed over. A taxi stopped. Cochrane was picked up and put in the cab but by the time they reached the nearby hospital he had stopped breathing. Someone called a reporter at the Sunday Express and said 'three white youths have stabbed a darkie named Cochrane'.
Caribbean migrations
Why was 32-year-old Kelso Cochrane in London? He was born in Antigua, an island in the Caribbean colonised by Britain. For much of its history, Antigua had a plantation economy that relied on the labour of enslaved Africans. When Britain abolished slavery in 1833, there were about 29,000 men and women of African origin or descent on the island. While plantation owners were paid by the British government for the loss of their slaves, the freed slaves themselves received nothing. As on most of the islands in the Caribbean, almost all land was devoted to plantations and there was nothing much the newly-emancipated slaves could do other than accept plantation-based work, no matter how low the wage. There were no factories or other industries to work in, as Britain did not permit manufacturing in any of its colonies.
As a result, many West Indians (people from the English-speaking Caribbean) began to look for work in other parts of the world. Some migrated to the South American mainland, many went to Panama to labour on the new railways there and then to assist in the building of the Panama Canal. Most went to the USA: for example, between 1901 and 1910, over 11,000 Caribbean people were admitted; between 1943 and 1953, 51,131; in 1930 the US census listed 106,241 individuals as 'Caribbean born'.
Conditions on the islands deteriorated after the Second World War. Not content with working as a carpenter with his father who was a shipwright, Kelso migrated at age 19 – first to another island, Dominica. After three years he returned home – only to migrate again, this time to the USA, where he had two uncles. He married but the marriage did not last long, and he returned to Antigua for a few months before leaving again in July 1954, this time for what 'West Indians' called the 'mother country', Britain.
West Indians (and Africans) in Britain
As it had become very difficult to emigrate to the USA after World War II due to the passage of the McCarran-Walter Act in 1952, many West Indians saved money to buy their passage to Britain. Some were invited to work in the country as many white Britons were emigrating and workers were needed (for example in 1946-1949, 459,488 white Britons emigrated).
Attitudes of the white British towards people with darker skin were often very negative at this time. Many discriminatory ideas had grown during the era of the trade in enslaved Africans when British people were told that Africans had no culture, no religions, no laws, no traditions – some Britons even believed that Africans had no languages. Colonised people in Africa and the Caribbean were largely unaware of these attitudes in Britain.
exorbitant
price. They were also angered and disappointed by the employers who often refused to hire them; and by the 'colour bar' in some pubs, dance-halls, and many other places that led to them being refused admittance.
Racism, racist behaviour and campaigns against these migrants were increased by fascist organisations such as such as the League of Empire Loyalists, Colin Jordan's White Defence League, Oswald Mosley's fascist Union Movement, and a branch of the Ku Klux Klan – all present in Britain at this time. White thugs, known as 'teddy boys', roamed the streets at night, hunting for 'niggers' who, they claimed, were seducing their women.
Fights broke out in many cities in 1958. The Notting Hill area was among the worst. Three black men were so badly beaten they were hospitalised for weeks. Oswald Mosley distributed a pamphlet saying 'Take action now. Protect your jobs. Stop coloured immigration. Houses for white people – not coloured immigrants.' Hundreds of young men rampaged around the area at the end of August, smashing the windows of houses West Indians lived in and anything owned by them, and attacking many on the streets. 'Some in the black community panicked and wanted to return home where they would be safe', recalls Trinidad-born Pearl Connor. The police were not impartial: a disproportionate number of the black people who had been attacked were arrested. One magistrate criticised the police for their evident bias.
To protect themselves, West Indians formed the Coloured People's Progressive Association (CPPA), whose motto was 'United we stand, divided we fall'.
Who killed Kelso Cochrane?
Was Kelso Cochrane fearful on his way home alone, late at night? Though a number of people were likely to have seen his murder from their windows as the street was lined with terraced housing, very few reported it to the police. This could have been as much a result of their fear of reprisal from the 'teddy boys', as their lack of interest in the murder of a black man. However, some witnesses did give the names of the perpetrators to the police. Two men were arrested, held overnight and then released without any charges.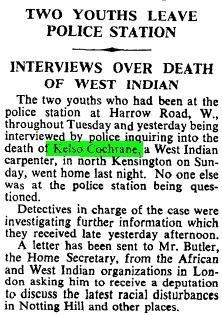 This was the first post-war murder of a black person in Britain. Despite evidence to the contrary, including the fact that Kelso Cochrane was not wealthy, the police claimed it was an attempted robbery, not a racial murder. According to a BBC report of an interview with Cochrane's brother, broadcast on 8 April 2006, Detective Superintendent Ian Forbes-Leith, who had led the investigation, told a newspaper at the time: 'We are satisfied that it was the work of a group of about six anti-law white teenagers who had only one motive in view – robbery or attempted robbery.'
The response by local black people
1st June 1959: Black protesters demonstrating in Whitehall against the outbreak of racist violence in Notting Hill Gate, London (Courtesy of John Franks/Getty Images)
Many local organisations were infuriated. Claudia Jones, the Trinidad-born editor of the West Indian Gazette, who had been the main organiser of the first London Carnival, held in St Pancras Town Hall, directed her attention to the need for a campaign against the treatment of all non-white people in Britain.
Claudia, the CPPA and other groups formed the Inter-Racial Friendship Co-ordinating Council, whose Central Executive Committee was all women. They sponsored a memorial meeting for Cochrane. Forty organisations and the three major political parties sent representatives. Then they organised a very public funeral. About a thousand people attended, including the Kensington Mayor and the Premier of the West Indies Federation. A fund was set up for Kelso's mother in Antigua, whom he had been financially supporting.
The Council sent a letter to the Prime Minister asking for a law to make incitement to racial violence illegal and emphasising that 'coloured citizens of the UK have lost confidence in the ability of the law enforcing agencies to protect them'. Instead of agreeing to this, the government gave permission for the White Defence League to hold a meeting in Trafalgar Square.


Then the Council met with some Home Office officials, asking again for this law and for the trebling of police in the Notting Hill area. According to some of those attending, they also asked for the removal of policemen 'with known racial bias'. On 1 June they held a vigil outside 10 Downing Street, to 'express a lack of confidence in arrangements for the security of coloured people'.
Another meeting was organised at St. Pancras Town Hall on 11 September. The 130 delegates from trade unions and other organisations included Fenner Brockway MP, the Prime Minister of Jamaica and the Deputy Prime Minister of the West Indian Federation. They called on everyone to act against racism and support the request for legislation against racial discrimination.
So now the struggle against the many forms of racial discrimination was under way. What was the response of the government? It is important to analyse the responses to questions in the House of Commons and the House of Lords.

House of Commons, 4 June 1959, Hansard vol 606 c37W Written Answers 47

Mr. Lewis asked the Prime Minister on what date he received the communication sent to him from the committee for African organisations concerning the colour question; what was the content of this letter; and what was the nature of his reply thereto.

The Prime Minister I received from the Committee on 19th May a letter about the murder of Kelso Cochrane and about the general question of racial discrimination. The Committee also sought an interview with my right hon. Friend the Home Secretary. The reply pointed out that the police are prosecuting their inquiries into the murder with all possible vigour and that the maintenance of public order in London is the responsibility of the Metropolitan Police, which they will discharge without fear or favour. My right hon. Friend offered to arrange for one of his officials to see a small deputation from the Committee and a meeting took place on 27th May.


House of Commons Debate 4 June 1959 Hansard vol 606 cc368-72 Mr. S. Silverman Will the right hon. Gentleman bear in mind that while it is perfectly true, as he said, that racial discrimination forms no part of our law, there is nothing in our law to make racial discrimination itself illegal? Does he not think that the time is rapidly approaching when there ought to be?

Mr. Butler The Secretary of State for the Home Department and Lord Privy Seal Part of what I said was that it was not known in our law, and perhaps deliberately to take action against it might not be so effective as the hon. Member might think. That is why I do not want to step into that part without a great deal more consideration.


Mrs. Braddock Will the right hon. Gentleman inform the Press that it can play a very big part in preventing these racial troubles and that very often the way the Press reports matters can bring in people who should not be brought in and that it creates a situation which makes it possible for racial hatred and racial struggles to take place? In Liverpool, we have a very big coloured population and we have no difficulty at all. We have not had difficulty for some time. The right hon. Gentleman might care to study what is done in Liverpool to prevent this sort of thing and he might suggest to the Press that it should be very careful about reporting matters connected with racial discrimination.

Mr. Butler It is, naturally, possible to fan a particular incident, or to treat the matter wrongly. My contacts with the Press indicate that it is willing to take a responsible view of this matter. I have studied the position in Liverpool as well as that in other large cities where there is a colour problem and I shall study all the evidence that can be brought to me and maintain my contact with the Press.
Stephen Lawrence
The murder of Kelso Cochrane was neither the first nor the last murder of a black person merely because of the colour of his or her skin. The murder of Stephen Lawrence in 1993 mirrors that of Kelso Cochrane in 1959. Stephen's murderers, like Kelso's, were reported to the police. Again, no-one was charged. The massive campaign led by Stephen's parents and their many supporters resulted in the government appointing Sir William Macpherson to chair an inquiry in 1997. His report, published in 1999, accused the Metropolitan Police of institutional racism and its recommendations included strengthening the Race Relations Act to try to clamp down on discrimination. The Report was discussed in the House of Lords:

House of Lords Debate 24 February 1999 Hansard vol. 597 cc1155-74

Lord Dholakia My Lords, we welcome the report of Sir William Macpherson's inquiry into the racist murder of Stephen Lawrence. We also welcome the Statement from the Home Secretary...

The report ... is about pernicious racism that seems to have affected police and policing decisions in London. But, taken in its widest sense, it is about racism that is endemic in our society. Stephen Lawrence died because we all failed in arresting racism that has affected our lives, our attitudes and our society. To discuss injunctions and resignations, as we have seen, is simply to direct attention away from this important publication. We have a record second to none on race relations in the western world. Our race legislation is also second to none in Western Europe. My noble friend Lord Jenkins of Hillhead must be given great credit for introducing that in Parliament. It should be a surprise to no one that persons, be they police, prosecutors, lawyers, magistrates or prison officers, represent the same strengths and weaknesses as the society and community from which they come.

....
It is now almost 40 years since the Notting Hill disturbances in 1958. Casting my mind back, black people were systematically exposed to violence perpetrated by local youths and supplemented by extreme Right-wing movements in the country. At that time, Kelso Cochrane, a young black man was murdered for no other reason than that he was black. That was 40 years ago. In those days Kelso's death became a uniting force when black and white residents stood together at the funeral procession giving a clear message that they would not tolerate racist attacks. I know because I was there.

Almost 40 years on, I wish I could say the same thing following the death of Stephen Lawrence. The black community has lost confidence and it does not believe that the establishment is able to protect it. That is sad. The sooner we rebuild confidence, the better it will be for our multi-racial society.…

Some years ago we set up a Royal Commission on Criminal Justice. It then reported on some important research about the position of black people in the criminal justice system. Many of those issues are still surfacing now in Sir William's report. Black youths are especially likely to be stopped by the police and arrested. Although only a small proportion of those arrests result from stops, if only one in 10 results in a criminal justice process, it is no surprise that nine out of 10 have an adversarial relationship with the police in this country. Once arrested, black youngsters are less likely to be cautioned than are whites. The overall pattern of charges brought against blacks differs from that for whites. Black defendants are more likely to be remanded into custody. They are more likely to plead not guilty to the charges brought against them. Black defendants are more likely to be tried in a Crown Court and more likely to be acquitted, but when black defendants are found guilty of a crime, they are likely to receive longer and more custodial sentences and a different range of non-custodial options.

The result of all that is that 18 per cent of the male prison population and 26 per cent of the female prison population in this country is black as against their proportion of just under 6 per cent in the community.
Questions and Student Activities
There are ongoing discussions of how much things have or have not changed between Kelso Cochrane's time and ours.