Music and migration: songs from the Irish in Birmingham
Album cover for 'Plastic' by Paul O'Brien, 2008 (Courtesy of Paul O'Brien)
The source image is from the cover of Paul O'Brien's album, Plastic, released in 2008.
Paul O'Brien was born in Birmingham to Irish parents in the 1960s. O'Brien's dual cultureship is reflected in the images on the album sleeve, which combine Dublin's famous Ha'penny Bridge with Birmingham's canals; and in his music, which combines traditional Irish flute and uilleann pipes, with Anglo-American pop stylings and the singer's Birmingham accent.
Recruiting for Birmingham
Throughout the twentieth century, the Irish were Britain's largest foreign-born population. When Britain declared war on Germany in 1939, many Irish-born residents of Birmingham, a large industrial city in the centre of England, were reluctant to enlist. Remembering their own brutal history of British colonisation and, believing the conflict to be somebody else's fight, large numbers returned to Ireland. However, the economic climate in Ireland remained poor and unemployment spiraled. Ireland had so few industries that it was virtually impossible to find a decently paid job. Britain, on the other hand, desperately needed labour from Ireland to help the war effort. The British government organised large-scale recruitment and by 1942, Birmingham firms, such as ICI (Imperial Chemical Industries) and Austin had sent recruiting agents across the Irish Sea.
Such schemes continued after the war. In the years following 1950, Birmingham was boosted by Irish migration on a scale never seen before. The development of 'clean' industry and the need to rebuild infrastructures meant that a large number of Irish migrants arrived in the West Midlands after the Second World War. Birmingham had one of the largest municipally organised bus operations in the world, but local drivers were being lured into the city's expanding factories. Birmingham's regional bus corporations even set up centres in Dublin to actively recruit drivers from Ireland (and often provided free ferry fares). The Midland Red and Birmingham Bus Corporation's centre in Dublin attracted more Irish workers than any other transport department in Britain. Men were also sought for the city's manufacturing and building industries. In 1955, Birmingham advertised 5,000 vacancies for women and 2,000 for 'girls' under eighteen. There were also increasing opportunities in retail and catering. As Birmingham changed and expanded, life in rural Ireland became increasingly impoverished and, as a result, between 1951 and 1961, the number of overseas immigrants to Birmingham nearly doubled, with 22,000 coming from Ireland.
As a result, the census of 1951 records more than 37,000 Irish-born residents of Birmingham, and the 1961 census records more than 58,000. The number of second-generation Irish babies born in Birmingham peaked in the sixties. During 1964 and 1965, 4,525 children arrived into families with both an Irish-born mother and father, and 2,707 to couples with one Irish-born parent, making up one in every six births across Birmingham's homes and hospitals. Towards the end of 1965, the Birmingham Mail newspaper reported that one in ten people in Birmingham could now claim Irish identity by birth or extraction, describing the eminent positions – including magistrates and local councillors – achieved by those from Ireland. Worth noting is that in 1950s Birmingham the number of women arriving from Ireland matched and, at many stages, overtook the number of men. Quite atypical for immigrant groups, women ensured the permanence of an Irish community in Birmingham, because, unlike the many labouring Irishmen who were constantly on the move, the employment of women included static jobs, predominantly in nursing, administration and domestic service.
Regulating movement
Although there had been a tradition of free movement between Britain and Ireland since Irish independence in 1922, after the fall of France in 1940, the British government controlled this process more tightly. Ireland was suspiciously neutral during the war and in order to enter England, wartime migrants from Ireland required written permission from their British employer, permission from the government in Dublin, and permission from Britain's Ministry of Labour. On arrival in Britain, Irish workers were instructed to work only in the job specified on their visas and to register immediately with the police in the district in which they would live. Restrictions were lifted after the war, initially only for women, in 1946. Regulations for men were brought in line in 1952 when full free movement between the two countries was restored. This, coupled with improvements to New Street Station, made Birmingham accessible from the ferry ports at Liverpool and Holyhead.
Irish parents, English birthplace: musician Paul O'Brien
One of the 1960s births in Birmingham was the Irish musician Paul O'Brien who struggled with his English birthplace. He has said, 'If I told people, they said I was "plastic" so I used to lie profusely and say I was from Ireland as I didn't want to be insulted.' 'Plastic Paddy' is an insult used against the diaspora, those born outside Ireland and performing their ethnic Irish identity. In 2008, O'Brien responded positively in music, with his album Plastic. In his introduction to the title song, O'Brien writes, 'I have been called a plastic paddy many, many times. Born in England with Irish parents gave me no single culture and yet it gave me two. I have really only figured out that it's good to have dual cultureship.' This dual cultureship is shown by images on the album sleeve (see image above), which combine Dublin's famous Ha'penny Bridge with Birmingham's canals; and in the music, which combines traditional Irish flute and uilleann pipes (recorded by Paul's brother Aiden), with Anglo-American popsong and the singer's Birmingham accent. O'Brien uses a Birmingham-Irish sound to remind hostile local audiences of the 1970s and 1980s, 'When I sang in Digbeth, you called me "Plastic"' and in the chorus of his song, he celebrates ethnic marriages of the Birmingham Irish, Glasgow Irish, Toronto Irish and many more, showing the global existence of the island of Ireland wrought by mass migration.
See lyrics for O'Brien's song 'Plastic' below (Courtesy of Paul O'Brien):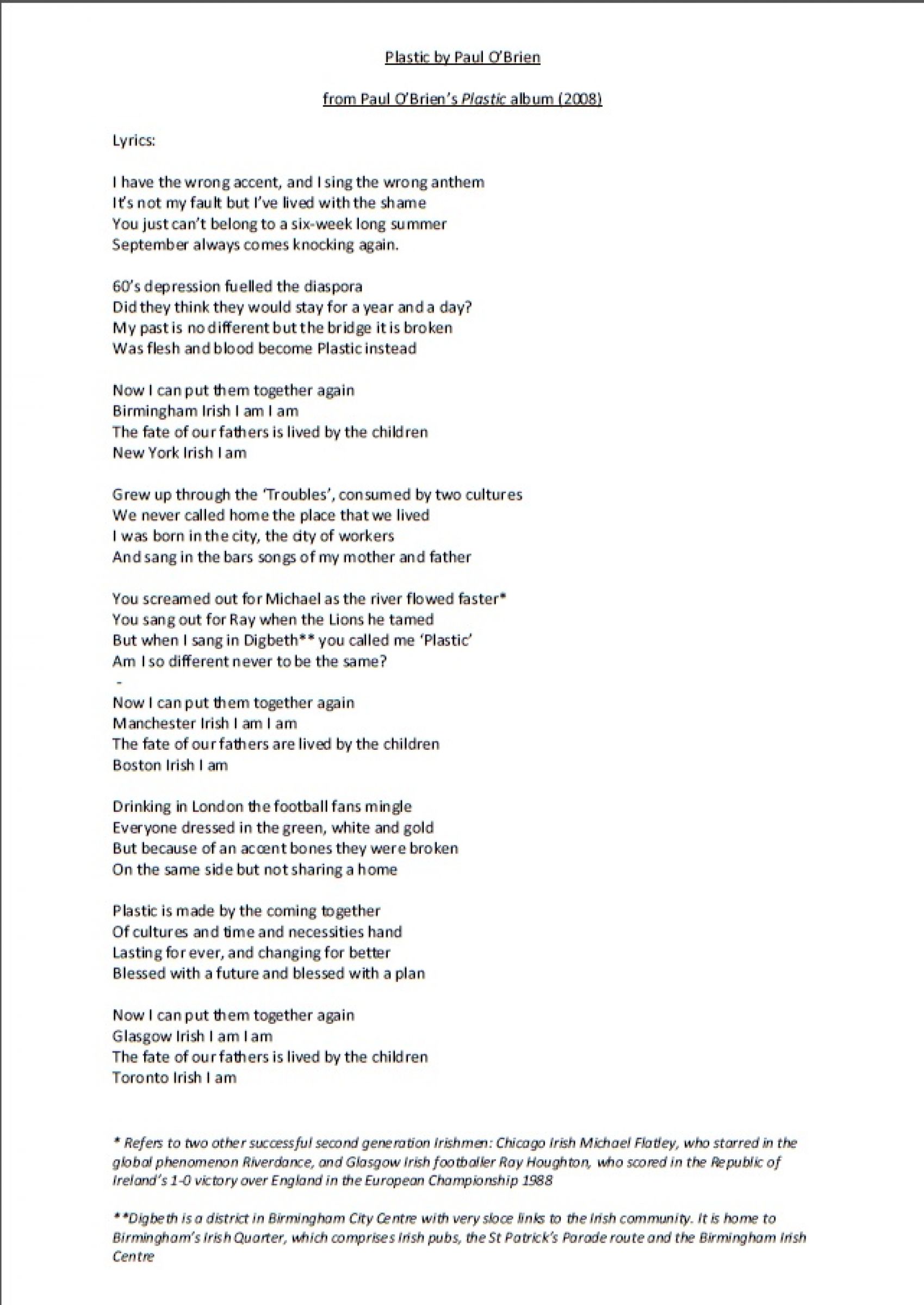 Listen to 'Plastic' by Paul O'Brien here.
Music: a signifier of nationhood
A migrant Irishman in 1950s Birmingham may have felt that he had fewer and fewer living relatives still based in Ireland; he may have found himself forgetting the Irish language that once (if ever) he knew; he may have found his children growing up with English rather than Irish accents. For someone like this, the remembering, performing and passing on of particular musical tunes would have been a way to appear Irish; to imagine themselves and their community back in the homeland and to mark a kind of cultural distinctiveness for the migrant who often looked and sounded indistinguishable from the native English resident of Birmingham. When the children, grandchildren and great-grandchildren of migrants count themselves amongst the diaspora, more often than not they seek to compensate with music for the absence of that most obvious audible signifier of nationhood, a spoken language or accent from the home country. Artists like Paul O'Brien perform their reminiscences in music and his nostalgic narrative of growing up as an Irish person in England illustrates the newfound sense of ease with notions of national identity in Birmingham and cultural belonging to Ireland.
Music plays a central role in stabilising and locating identities. When discussing migration, historians usually focus on the most dramatic or monumental incidents . So, for an historian of the Irish in Britain, the key episodes would probably be the potato famine, the Irish war of independence, the mass migrations of the mid-twentieth century, the world wars, the IRA campaigns, the peace process of the 1990s, and the Celtic Tiger boom and bust. More often than not, historians pay no heed to the particular judgment of those who have lived through the occasions they describe. The events listed above may not feel as if they belong to Irish participants at all when portrayed in this systemic manner. Individual priorities might lie, instead, with particular family circumstances, geographic connections or employment needs, and not migration patterns, economic growth or political realignment. Indeed, the historian's contextualising may make the migrant's personal narrative look comic, whilst a shifting, subjective cultural memory, like that sung about in O'Brien's Plastic, can be seen to undermine an historian's 'true' version of events.
Irish music in Birmingham: politics
Birmingham's location as the middle space of England means it has functioned at the heart of post-imperial Britain – with various trade links, it is easily passed through between north and south and east and west, and has readily absorbed and mixed communities, musics and goods. O'Brien's song describes difficult times for the Irish in Birmingham during the 1970s and 80s. At this time, Birmingham suffered from economic recession, a decline in population and a slowing of Irish immigration. All communities living in the West Midlands were rocked by political turbulences in Northern Ireland, which culminated in the blowing up of two city centre pubs (the Mulberry Bush in the Rotunda and the Tavern in the Town on New Street) by the Provisional IRA in November 1974. This was the worst terrorist incident on English soil until the Al-Qaida attacks on the London Underground system in 2005. Twenty-one people died and over 160 were maimed in the IRA attack that gave Birmingham its unwelcome distinction as the site of the most devastating episode of the Irish Troubles until the Omagh bombing of 1998. The atrocity of 1974 resulted in a terrible backlash against the local Irish community, resulting in a reluctance on the part of migrants and their families to discuss Irish issues, perform Irish music, or become involved in public Irish events for a number of years. The Birmingham Irish Centre was set alight in the immediate aftermath of the Birmingham pub bombings and the city's St Patrick's Day parade was withdrawn, only to reappear in the late 1990s.
The story of Irish music in Birmingham aligns with this wider narrative. In its broadest terms, the 1950s show an initial period of creative confidence moving into self-censorship in the 1970s, before a resounding return in the 1990s. The seventies presented a situation repeated from late-nineteenth-century Vienna, where assimilated Jews had their ethnic identity recovered by liberalists seeking a scapegoat for economic changes. Post-war migrants from Ireland, who had successfully built Birmingham, living and working peacefully with English and non-English residents for over twenty years, became, after the IRA bombing in November 1974, the city's dangerous 'other', to be ostracised and approached with caution. From the mid-seventies, singing Thomas Osborne Davis' common anthem 'A Nation Once Again' or John Keegan Casey's popular 'The Rising of the Moon' in Birmingham's pubs and social clubs was an incendiary act loaded with political connotations. In this exposed climate, statements by musicians famous with the Irish in Birmingham during the fifties and sixties, such as Joe Lynch from County Cork, seemed foolish and naïve: 'I was singing Irish ballads when it was dangerous to do so!'
Irish music in Birmingham: performance
Irish music relies on diasporic performances. The physical and cultural globalisation of Ireland (no European country has experienced the ratio of emigration to population on such a scale as Ireland over the past two centuries) has meant that Irish music and traditions can scarcely be insulated in some kind of 'pure' form. However, specific incidents mean Irish music has not always been performed unregulated in Britain. Those who sang pro-IRA rebel songs in Birmingham in the early 1970s, for example, were likely to see their participation and the meaning of those songs quite differently after the Provisional IRA detonated bombs in the city centre in 1974. Tensions had been building prior to this and the danger of Irish music was recognised when Paul McCartney's song 'Give Ireland Back to the Irish', recorded with his band Wings in 1972, was completely banned in Britain.
Despite women outnumbering men in the post-war move to Birmingham, the soundtrack of Irish migration is predominantly that of men's experience because Irish music tended to be performed in public 'masculine' spaces: pub sessions, clergy-controlled parish dances, or raucous St Patrick's Day street parades. A more common setting for music performance in Ireland was the private house gathering, but most Irish immigrants, on coming to Birmingham, lived in lodgings and shared accommodation, which made a domestic performance space difficult. Individual experiences in cities such as Birmingham also created a new masculine genre of Irish music, that of the manual labouring song. Despite this, however, the biggest Irish music scene in 1950s Birmingham was in the private house of a woman in Handsworth. Every week, in this particularly pluralistic area of the city (which gained notoriety in the 1980s with the Handsworth riots), Lily Lawrie, a nurse from County Roscommon, would welcome the city's Irish population for evenings of traditional music, tea and dancing, relocating the traditions of rural Ireland to urban England. Adults and children attended to perform their Irishness in this safe space and almost all of those younger Irish musicians playing with the Lawries in the 1950s and 1960s were the Birmingham-born children of migrants, who would ensure the presence and development of Irish music in the modern city.
The sound of silenced societies
The meaning of migration is constantly changing and evolving for those involved in the process. As a result, they can appear low down on the list of experts on the subject, but when approaching the story from a musical perspective, participants, listeners and performers all become important. Those researching the Irish diaspora should present a fresh take by playing the sounds of societies silenced in less personal studies of migration.


Questions and Student Activities
Did you know?:
Birmingham's St Patrick's Day parade is the biggest in the UK and the third largest in the world, behind Dublin and New York.
At the Football World Cup in 1994 (only the second time that the Republic of Ireland had qualified for the finals), four of the Irish football squad played for Birmingham club, Aston Villa – Ray Houghton, Paul McGrath, Steve Staunton, Andy Townsend. Villa fans would wave the Irish tricolor at matches and sing modified Irish chants in support of their Irish players.
When the American, Michael Flatley, left the Riverdance show in 1995, he was replaced by the world-champion Irish dancer Colin Dunne from Birmingham.
James Pearse, the father of the Irish nationalist and leader of the 1916 Easter Rising, Pádraic (Patrick) Pearse, who famously declared 'Ireland unfree shall never be at peace', was a stonemason in Birmingham.